In the second of our conversations with University of Manchester alumni volunteers, we sat down with to Mike Omoniyi to find out what he gets out of being a volunteer, and how he can inspire others to do the same.
Mike is an MA Political Science – Democracy and Elections and BA Politics, Philosophy and Economics graduate of The University of Manchester.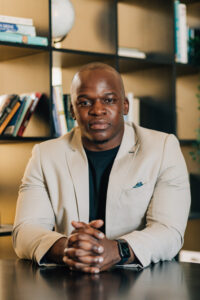 Mike is the CEO of the Common Sense Network, 'a network of businesses on a mission to make democracy healthier by harnessing the power of togetherness'. A Trustee and Board Member at The Young Foundation, he has continued to work with communities and organisations to shape a stronger society since his university days.
"I remember just being approached and asked if I was interested in volunteering. I'm really big on if the door was held open for you, hold it open for somebody else. I've gotten so much from Manchester and I just felt as if I owed it to Manchester, and to the young people there, to go back and advise them." Just like Lauren with whom we spoke last week, Mike felt that he wanted to give back to the University, and helped students who may have been in the same position as him during his studies.
"I would meet young people on these events, and  remember them asking about graduating and how to figure that out. You know, if you don't get a graduate job, is there another route?" and in his role as CEO of the Common Sense Network, Mike answered questions like this for members of his team, and so it wasn't too difficult for him to do it for the students. "If you have knowledge or skills that allow you to help others in a different capacity, why not use them to volunteer at the University of Manchester?"

A note on networking
Mike emphasises how beneficial networking can be for students and graduates. In a 2020 LinkedIn survey, 73% of participants reported that they were hired in the past through networking, or because they had a personal connection to someone within the company (70%).
"If I told myself when I was in first year, I would have changed the way I went through university… learning about the importance of networking like in the world I live in now. It is literally all about networking." You have probably heard the phrase "It's about who you know" and this rung true for Mike. . "It's about who you know and how likable you are and what you're like to work with. And if I knew that in first year, I wouldn't have sat in the back of headphones by myself, I would have sought to get involved much more than I did."
Getting an education is important, and growing your network while at university can take you that little bit further.
The Careers Service has a helpful webpage about networking with pointers on how you can develop your own network
You already have a network, from your course mates and friends to your lecturers and wider community, even social media. Recent graduates can sign up to our newsletter to hear about what events we're holding in your city, and get to meet others in the same field.

What Mike Said
To be able to pour back into the students and empower them nurtured the proclivity that Mike has always had, which is to give back. Giving up his time to help those he can is something Mike is passionate about, but also what he believes in as a Christian. "If you see something and you're like, it's not the way it should be, you need to listen to that intuition because a lot of people walk through the world and they see broken things and just walk past it.."

Encouraging others to volunteer
"Volunteer at the level you're comfortable with and are able to… but I say do something." Mike highlighted the importance of networking, as well as connecting with those at the same level, you could meet potential employers, mentors and even future colleagues which could lead to personal and professional growth. It's an important aspect of volunteering that will have a positive impact on your future.