Tamanna Haque, Lead Data Scientist at Jaguar Land Rover, is a powerhouse – working with the cars that she has loved since she was nine years old. We spoke to her about making a difference and being a woman in tech.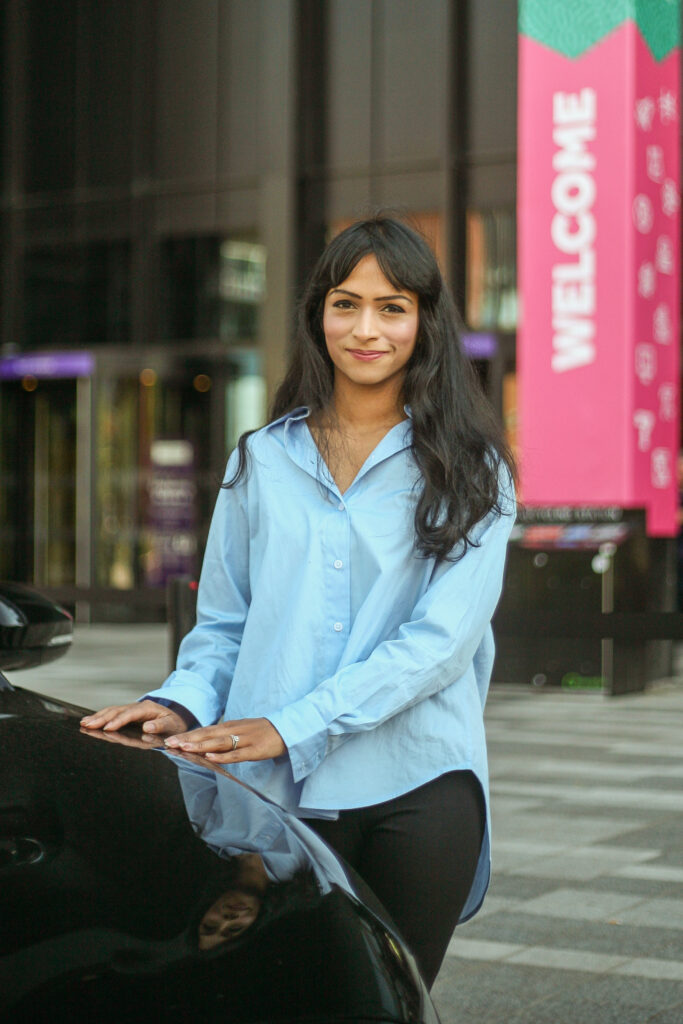 Tamanna studied Mathematics (with Business and Management) at The University of Manchester and graduated from her degree in 2015. She has supported the professional and personal growth of our students over the last few years through her volunteering, serving as an inspiration to many young people through her involvement with the university.
Volunteering benefits communities and individuals alike. However, what if we told you that volunteering could also be a powerful tool for personal growth, skill development, and career advancement? Tamanna's journey through volunteering offers a unique perspective on the power of giving back.
A Passion for Making a Difference
Tamanna's volunteering journey with The University of Manchester began in 2019 when she started her new role at Jaguar Land Rover. Tamanna recognised that her role came with a powerful brand behind it. She realised that her knowledge and experiences could make a difference, not only in promoting her company but also in driving positive change. Tamanna has spoken career panels and student networking events including: speaking as a panel member at the first Manchester Interdisciplinary Mathematics Undergraduate Conference (MIMUC) and The University of Manchester's Women in Science and Engineering, Math Society event.
"As a lead scientist at Jaguar Land Rover, I wanted to make a difference and improve diversity in AI and the automotive field," Tamanna shared.
According to the latest research by PwC UK, 3% of females say a career in technology is their first choice, whilst only 16% of females have had a career in technology suggested to them, compared to 33% of males.
Tamanna's success stands as a testament to breaking through barriers and paving the way for others. Through volunteering for the University, she has been able to inspire women just like her to pursue a career in tech.
Overcoming Challenges and Gaining Confidence
While Tamanna's dedication was evident, she admits that public speaking and communication weren't her strong suits.
Despite the initial discomfort, she embraced the challenge head-on. "It's going to take a lot of courage to do this, but if you just go out there and put yourself in a really uncomfortable position, you'd be surprised at how well you can do." Tamanna emphasises.
Her commitment to personal growth paid off, as she found herself improving not only her public speaking skills but also her overall confidence. Volunteering provided Tamanna with a platform to improve and emerge stronger than ever. "When I start to feel more comfortable in a certain speaking scenario, I look for something bigger to expand my comfort zone further, and I keep iterating on that which means my comfort zone and skillset are a lot bigger now than they were years ago" Over time, Tamanna's dedication to volunteering not only improved her abilities but also boosted her self-confidence.
Networking and Skill Development
Tamanna highlights that volunteering is more than just giving your time—it's an opportunity to develop a wide range of skills that extend beyond your comfort zone. She emphasises the importance of networking, especially for students who might be focused solely on their studies:
"Being at university, for example, it's so easy to just focus on your studies. But when you go out there and work in the industry, you're going to need a lot of other skills as well." she explained.
Her emphasis on networking aligns with a study published in the quarterly peer-reviewed journal Nonprofit Management & Leadership which highlights how volunteering expands social networks and can even lead to job opportunities.
Through volunteering, Tamanna has honed skills in people management, organisation, and effective communication. She credits volunteering for playing a pivotal role in her professional growth and helping her secure a leadership position at Jaguar Land Rover.
The Ripple Effect
Tamanna's journey has not only impacted her personal and professional growth but has also created a positive ripple effect. She's been able to mentor students and empower them to take charge of their own careers.
"I've been working with a student at this university for a few months to get an event off the ground, and that was a really nice opportunity to work with a student and offer that bit of mentorship, whilst working collaboratively to bring reality to one of my initiatives" she shared.
Her experiences showcase how volunteering is not only a means of giving back but also a way to inspire and uplift others while bolstering your own growth. 
Final Thoughts
Tamanna's story is a testament to the many benefits of volunteering. Her journey from overcoming self-doubt to assuming a leadership role at Jaguar Land Rover is a clear example of how giving back can be hugely beneficial.
As Tamanna aptly puts it, "I think everyone could give it a go at one stage, and then you can decide if it's for you or not. If you've never tried it, you don't know how much you'll enjoy it!"