The University of Manchester has a rich and proud tradition of attracting and enabling strong and inspiring women to flourish
On Intentional Women's Day, how could you help inspiring women thrive at Manchester? #UoMWomen #IWD2018
Click To Tweet
10 years after graduating from Manchester, Christabel Pankhurst was part of the successful campaign for women's suffrage #UoMWomen #IWD2018
Click To Tweet
On International Women's Day, we celebrate the ground-breaking word done by women at Manchester, but also acknowledge what more needs to be done #UoMWomen #IWD2018
Click To Tweet
Throughout our history, The University of Manchester has been home to countless inspiring women.
International Women's Day presents an opportunity for us to celebrate the ground-breaking and inspiring work done by women here at Manchester, while also recognising that as a society we still have a long way to go in terms of gender equality.
2018 also marks the centenary of some women first getting the vote in the UK, and there's no better place to celebrate this than Manchester – the city where the suffragette movement first began.
One of the most influential figures in this movement was Manchester alumna Christabel Pankhurst, who became the first woman to graduate in Law at the University in 1908.
After being denied permission to train as a barrister, she co-founded the Women's Social and Political Union, and spent her life campaigning to give women the vote, and it is the success of that campaign which we are celebrating this year.
A rich history
But our history is also full of countless other inspiring women. For example, Manchester Arts, Languages and Cultures graduate Ellen Wilkinson, who took her place as a Labour MP in 1923. At the time she was the only female Labour MP, and went on to become the first female Minister of Education.
Or Marie Stopes, who became the first woman lecturer in the Faculty of Science in 1904, and she went on to become a strong advocate of birth control for women.
At Manchester today, our current staff, students and alumni are continually building on this rich and proud history. From academics to students, staff to volunteers, all help to make this a world-leading university.
Support from donations
Many of these women are supported with donations from our alumni and supporters.
Young women like Megan, who is studying for a degree in French and Business Management after being diagnosed with a brain tumour. Supported by the Natalie Kate Moss Scholarship, Megan has been able to make the most of her time at Manchester, and during her year abroad in France.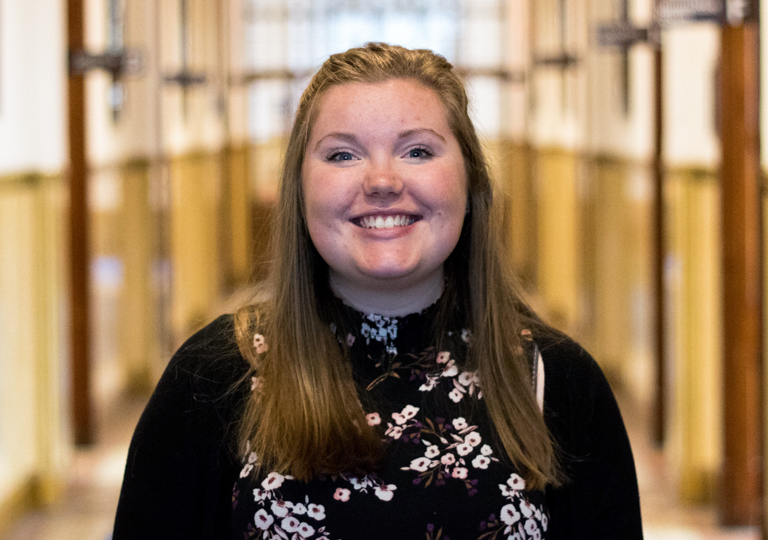 In the traditionally male dominated field of engineering, donor-funded scholarships are also helping some of our female students to thrive.
Students like Ellie, who has always wanted to thrive in a male-dominated field. Thanks to a Cadoux-Hudson Foundation Scholarship, Ellie is now well on her way to achieving her dream of becoming a civil engineer.
"My scholarship to Manchester has given me so much confidence. The feeling that people believe in my academic potential and want to see me succeed in my career: that is priceless to me."
Our graduated scholarship students have also gone on to do countless remarkable things.
Women like Christina who, after receiving Weston scholarship to study a master's of enterprise, has gone on to found The Aim Sky High Company, a social enterprise which offers dance, drama and singing tuition to young people in Greater Manchester.
Since being founded in 2013, the company has grown to employ 9 people, and has worked with stars as big as Stormzy and Justin Bieber.
At The University of Manchester, we are committed to allowing any bright, talented person the opportunity to thrive, regardless of their gender, race or background. Donations from people like you are vital for us to achieve this goal.
Find out more about International Women's Day at Manchester, and donate today to support more inspiring women like Megan, Ellie and Christina.