Professor of Neuroscience and Co-Director at the Geoffrey Jefferson Brain Research Centre, Stuart Allan, based in the University's Faculty of Biology, Medicine and Health, is determined to change the impact of stroke. And with an incredible team of talented researchers, the generosity of our community and the city's unique health landscape, he's certain that Manchester is the perfect place to make this happen.

The best in the business
The University of Manchester is a global research powerhouse. For nearly 200 years, our discoveries have changed the world. We're the birthplace of the computer, and the pioneers of graphene.
Now, it's Manchester's time to shine as a leading centre of translational brain research, both nationally and internationally.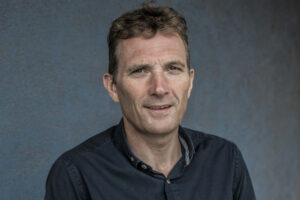 "Manchester is unique because clinical neuroscience sits in one single centre, the Manchester Centre for Clinical Neurosciences, that covers the whole of Greater Manchester. That means a population of around 3 million people go through this one single centre. This large patient base presents a lot of exciting opportunities to detect neurological diseases earlier and to find new treatments", says Professor Stuart Allan.
But it's not just access to such an extensive number of people that puts Manchester in a particularly good position. It's also the special relationship the University has between the scientists and the clinicians who work with patients.
"It's critical that we understand the challenges and the reality of what's happening in the clinic. For example, how many people have strokes, what type of strokes they have, what the current treatments are and what the challenges are in providing these treatments, so we can try and address that in our research," he explains.

Barriers to making a breakthrough
Every year, 800,000 hospital admissions result from neurological problems. From Parkinson's to Dementia, epilepsy to autism, brain diseases affect countless lives every day.
Manchester may be the best place to make the next big breakthrough in neurological disease happen, but research needs more financial support. Stroke studies are particularly underfunded across the country compared to other conditions.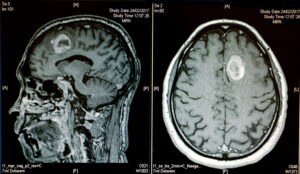 "A breakthrough in stroke research will change people's lives. And what excites me most is that we are in a period of rapid progress. Technology is now helping us to measure and look at things in a different way that we couldn't do before. We can accumulate huge amounts of information and analyse huge amounts of data much faster and quicker and more efficiently than we ever could.

"Whilst we're making more rapid progress to find the treatments we urgently need for stroke, it's still not happening as quick as I would like. We can have the best ideas in the world but if we don't have the funds to execute these ideas, we can't do it," says Professor Stuart Allan.


"We can have the best ideas in the world but if we don't have the funds to execute these ideas, we can't do it."

The power of donations
In 2021, more than a thousand of members of our University community came together to support the University's search for a brain haemorrhage treatment. By raising over £100,000, their generosity helped to appoint a new postgraduate researcher, Mary Newland, into the University's stroke research team.
Mary is working hard to bring us closer to a breakthrough in stroke treatment and is already excelling in her new role alongside Professor Allan and colleague Dr Catherine Lawrence.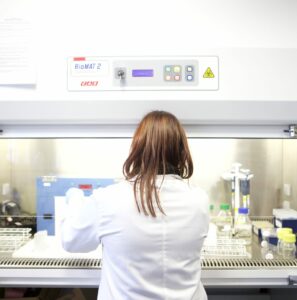 "Mary's doing fantastically and is a brilliant addition to the team. She's been with us since September and has been doing a lot of training in different research techniques. As part of her PhD, she's been reviewing work that's already been done on inflammation and stroke. What she wrote was so good that we're going to submit it for publication. Currently, along with fellow PhD student Josephine Thomas, she's carrying out a big study – testing an anti-inflammatory treatment for brain haemorrhage", says Professor Allan.
Mary and others in the stroke research team are exploring several promising therapies that have the potential to transform the way that stroke is treated. Scaling up research teams with talented PhD students like Mary is key to progressing this research.
"Early career researchers like Mary are the lifeblood of science. They're the ones doing the hard work in the labs and without them, we can't do anything. To continue with the research we do, we need to build to build the capacity for new talent. And this starts with PhD students," he explains.
Supporting the careers of talented people like Mary is just one way that generous donations make a difference. And gifts from our Manchester community help in a particularly special way.
"What's exciting about funding from donors is it tends to have less restrictions on how we spend it, and it can arrive quickly, compared with other funding. So, we can do things much faster, more flexibly and can respond quicker to challenges.
"There's a responsibility to make sure we deliver on that money and use it in the best way that we can", he says.

"Early career researchers like Mary are the lifeblood of science"


Geoffrey Jefferson Brain Research Centre
World-leading scientists need a world-leading home. Last year, the Geoffrey Jefferson Brain Research Centre (named after Manchester alum and first Professor of Neurosurgery in the UK) was established. Referred to as 'The Jeff', it aims to be a leading centre for improving the lives of patients with neurological disease.


"This is a real passion of mine at the moment.", says Professor Stuart Allan. "We know that stroke and dementia, Parkinson's disease and brain tumours are conditions that have significant impact on a large number of people, with limited or no treatments.
"Our vision is to work closely with the doctors and other health professionals to find new treatments for these conditions. As well as finding new drugs, we'll uncover new ways to improve the care pathways, and overall improve the quality of life for people with these neurological diseases.
"We want this to be something that Mancunians are proud of, as a centre that people recognise and value as being one of the very best for improving patient lives."
Researchers at 'The Jeff' know just how important it is to put those with lived experience at the heart of their research. It's a different approach to take, but one that's crucial for improving the lives of those with neurological conditions.
"We want this to be a research centre that delivers patient driven research, ensuring the needs of the patients are at the heart of what we do. Over the coming months, we will work with the patients, their families, their carers, and doctors and other health professionals to identify the questions that are most important to them", explains Professor Allan.
"So for a stroke survivor, what are the problems and complications that affect everyday life that we might be able to do something about? I may think something's important to research, but it might not be important for someone living with stroke."

"We want this to be something that Mancunians are proud of, as a centre that people recognise and value."

A passion for public engagement
It's not just in the lab where Professor Allan enjoys his carrying out his work. For the last 20 years, he has been actively involved with engaging the public in all-things-brain-science related – and he loves it. From shopping centres to railway stations, Professor Allan and his fellow members of the Brain Inflammation Group have carried out lots of activities related to the brain and neurological-disease – even popping up with a giant inflatable brain.
"I'm so passionate about the importance of engaging the public in science, to inspire future generations of scientists and to break the myths of what science is, and what scientists look like", exclaims Professor Stuart Allan. "If you ask people to draw scientists, they'll often draw a stereotypical white coat image. We all have an image of a stereotypical scientist, but the reality is, scientists are the Marys of the world.

"The reality is, scientists are the Mary's of the world."


Manchester forever
When Professor Stuart Allan arrived at the University as a Postdoctoral Research Associate in 1993, he didn't plan on staying for very long. Three decades later, he's still proud to call Manchester his home.
"Anyone who goes through the city centre will recognise that Manchester is constantly changing. In the same way that campus has changed beyond recognition over 25 years", says Professor Allan.
"But what hasn't changed in my view is the passion within the university, about supporting people and trying to make people feel welcome and do their best. We've got fantastic alumni and a very strong network within the lab. So we keep extremely close links with many people who came through the lab. And that drives me to do what I do – having these friends and colleagues who I've known for years", he explains, beaming with pride.


Get involved
Be it people who have lived experiences of certain conditions, or carers and clinicians with advice, Stuart and his team always are looking for people to help advance their life-changing research. The easiest way to get in touch is through the Jeff's website which you can visit by clicking here.

---