In 2022, more than 350 students from disadvantaged backgrounds joined us at Manchester with a scholarship. Thanks to our generous community of alumni and donors, these students have received the financial support they need to aim higher and achieve their goals.
Below, you can meet a few of the talented first-year students who are studying here at Manchester with support from our donor community. They've each provided an insight into their journey so far – we hope you'll enjoy reading what they have to say.


Hamza, BSc (Hons) Computer Science with Industrial Experience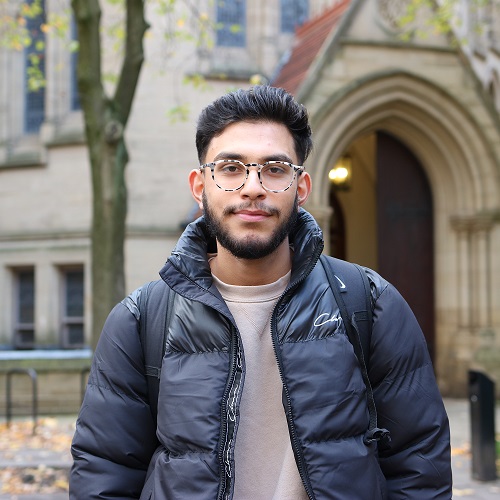 "I am originally from Pakistan but grew up here in Manchester, with two siblings, which is the place I call home. Manchester is where I attended school, college and now, where I am attending its esteemed university.
Growing up I was very creative which led me to pursue photography as a hobby, and this is now something I really enjoy doing in my free time. I do also like drawing from time to time, which I find to be really therapeutic.
I chose to pursue university largely due to my ambition to work in technology in the future. Obtaining a degree in computer science is considered the most beneficial path to working in this field. I want to learn more and specialise in this ever-changing field, which is already beginning to shape our future.

The reason I chose The University of Manchester to study my degree is mainly because it is a place of great opportunity, right on my doorstep. The University itself is where the first modern computer was invented, making Manchester historically significant as well as culturally diverse. I am really looking forward to my studies at Manchester and utilising the technology which will make my course even more enjoyable to study."


Aminat, LLB (Hons) Law with Politics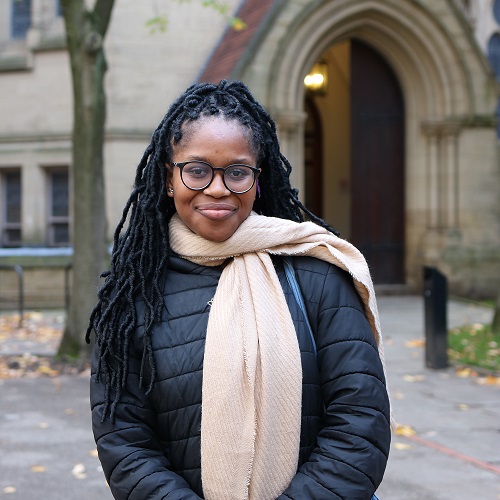 "I am currently in my first year studying Law with Politics and I am loving the course so far. Although the course is heavily content based, I have very supportive peers and tutors, who make the course less stressful to dive into. Law is something I've always been very passionate about and I enjoy learning about the foundations of the law, as well putting what I have learnt into practice through volunteering.
During college, I had the opportunity to partake in the Manchester Access Programme, which turned out to be a fulfilling and amazing experience. During the programme I gained the necessary academic skills for referencing and essay writing, as well as learning the importance of resilience.
Receiving my A-Level results was nerve wracking as I was in a different country at the time, but I was so excited to begin a new chapter at The University of Manchester. The first day of attending university was petrifying because I had worked so hard to get to this position, but I was also very proud.
I would say I am still exploring my options beyond university but I am leaning more towards the path of becoming a solicitor, and with the University's support and reassurance, I believe I can achieve this."


Haris, BDS Dentistry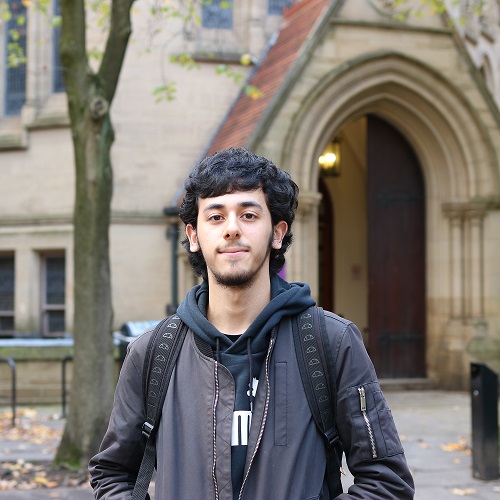 "I was born a Muslim and grew up in a Muslim household with five other Muslim family members. As a Muslim man, I will have responsibilities in the future and a family to look after, so I need to be able to provide for them. So I thought the best way of doing this is by going to university and securing a reputable degree that provides job security and stability, which is why I chose dentistry.
Although these were the initial motivating factors for choosing my course, the main reason is that it is a rewarding career. Unlike medicine, a dentist is solely responsible for diagnosis and can perform a wide range of treatments themselves. I enjoy taking a hands-on approach to work, while making meaningful connections with colleagues and patients, which will make the day-to-day difficulties of this job worth it.
Looking back, I thought that attending an underperforming secondary school wouldn't affect my education. However, after results day I realised that not everyone starts on a level playing field. I had foolishly thought my ambitions were too high, but instead, my potential was not maximised. While I was grateful for the grades I received, the disappointment I felt about not meeting my expectations was a hard pill to swallow. COVID-19 also affected my application to university greatly, but the moment I realised I was accepted into The University of Manchester is one I'll never forget. I thank God I made it in the end."


Ella, LLB (Hons) Bachelor of Law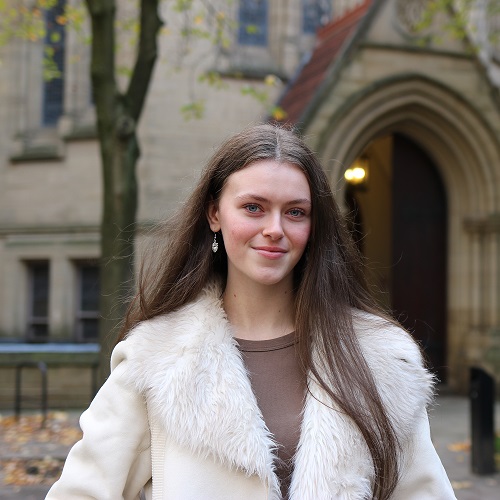 "I was born in Manchester and I grew up in Cheadle Hulme and Stockport. One of my favourite ways to spend my free time is by reading books. At the moment I am reading the fourth book in a fantasy series and when I am done I plan to read 'A Murder is Announced' by Agatha Christie, who is one of my favourite authors.
I have loved to read from a very early age, therefore it's no surprise that I've also loved to write since I was a child. This passion has only grown and continued into my adult life. I aspire to write novels, but I also love to write poetry. I have recently had a poem published in a book of poetry.
It means a lot to my family and I that I was accepted into the University of Manchester, as I'm the first in my immediate family to go. Everyone's very proud of me which fills me with an overwhelming sense of both gratification and responsibility. It's a brilliant source of motivation for me to continue to work hard.
My journey has only just begun and I am so excited to fully take advantage of the amazing opportunities that The University of Manchester offers. For example, there are so many opportunities already to meet with incredibly successful lawyers as well as law firms, in order to grow my connections and begin building a career.
This scholarship means so much to me as it will help me to prosper in university life and I'm so grateful to the donors for generously supporting my scholarship."


Namal, BSc (Hons) Public Health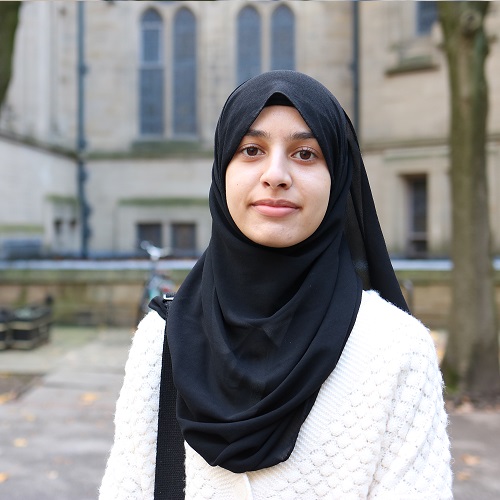 "I was born in Italy, my parents are from Pakistan, and I grew up in a small countryside town in Italy. In 2014 my family moved to Manchester, a city bustling with many different people and things to do. It was difficult to adjust at first as it was very different from the small town I grew up in. However, moving to a new country took me out of my comfort zone and allowed me to experience new things which helped improve my confidence.
One of my hobbies is photography, in particular nature photography. I love capturing the beauty of nature and it's a way for me to relax whenever I am stressed. Recently I have been learning how to edit my photos so I can improve the quality of the pictures I take.
I am very proud to be studying at The University of Manchester as I am the first one in my family to attend a Russell Group institution. The pandemic had a big impact on my education, as due to the lockdowns I had to adjust to online learning which was challenging. However, I put in my best effort and was accepted to study at Manchester. My family were very proud of me and I was very happy that my hard work paid off."


Livingston, MEng (Hons) Aerospace Engineering with Industrial Experience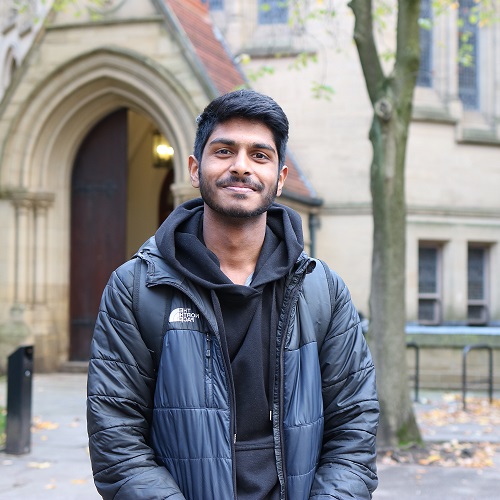 "I have lived in Fallowfield in Manchester for most of my life. Growing up I was always into computers, which is where I gained an interest in coding. I am an avid instrument player, particularly the drums and piano. I also produce music from time to time.
Going to university was always the next step for me after school, as I have always wanted to make academic advances. Something about gaining knowledge and knowing more about the world, has always intrigued me.
I chose to study the MEng Aerospace Engineering course because of my interest in space. Although during my time at sixth form, I couldn't shake my love for physics and when it came to deciding what course to apply for at university, physics seemed the natural choice. However, I wanted something that would really push my love for physics into the material world. Which is why I eventually chose aerospace engineering. As for a future career, I am really interested in space exploration and satellite development, anything to do with space.
I am very excited to continue studying my course. I am really looking forward to how I will grow and the knowledge that I will gain. I am also looking forward to the experiences I will have. The University of Manchester has such a wonderful community filled with amazing people and I can't wait to meet them. I am eager to see where my journey at Manchester will take me."

If you would like to find out more about how you can support students here at Manchester, please visit: manchester.ac.uk/donate