Professor Gajendra Verma's gift ensures support for postgraduate students for many years to come.
The University of Manchester is proud of its track record of levelling the playing field so that gifted students from all backgrounds can make the most of their talent and access the opportunities they deserve.
The University is fortunate enough to count on such a loyal community of donors who support deserving and talented students. Professor Gajendra Verma is part of that community and his recent gift encapsulates that generosity which plays such a key role in the lives of students at Manchester.
Gajendra has given an endowment to help fund master's bursaries for students at Manchester. This will make such a crucial difference to students during their postgraduate degrees, and follows an endowment fund he established to support a programmed dedicated to lymphoma research. The Lymphoma group continues to thrive and are very well known internationally for their practice changing research work. The University will be recognising the impact and longevity of Gajendra's support by welcoming him into the Beyer Giving Circle.
Professor Verma, who was born in Motihari, Bihar, India, has been a vital and ever-present part of The University of Manchester ever since he began his professional career here in 1968 as a Research Fellow. He later re-joined in 1985 as Professor in the Faculty of Education and in 1994 he succeeded to the prestigious Sarah Fielden Chair of Education. This chair was established in 1899 and Professor Verma was only the sixth person to hold this chair. He was one of the first representatives from an ethnic minority background to be appointed a Professor of Education in the UK. He was appointed the first Dean of the Research and Graduate School in the Faculty of Education and retired in 2002 when, in recognition of his national and international standing and work and for his services to the University, The University of Manchester conferred the title of Emeritus Professor for life on him. In March 2010, he was awarded the most prestigious University of Manchester Medal of Honour for his many contributions to the University and to educational thinking worldwide over a period of 30 years.
The University is extremely honoured that Professor Verma's generosity will support the Manchester Master's Bursary programme which provides critical support to students during their postgraduate degrees. This scholarship programme alleviates financial pressures and allows postgraduate students to make the most of their education and gain the extra skills needed for their future careers whether that is studying an additional language, having the flexibility to take on an internship or simply supporting day to day living costs.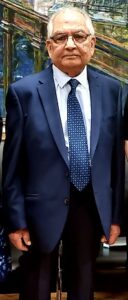 "It was only when I left my native India in 1958 that I was exposed to the harsh realities of the outside world. My eyes were opened to the fact that social and educational inequalities existed around the world.
"Through working on some groundbreaking studies, I developed an unshakeable commitment to social justice, diversity and inclusivity that reflects the ethos of the University of Manchester.
"Thus the unpleasant experiences from an early age shaped my beliefs and made me a strong proponent of social justice, equal opportunities and inclusiveness. My search for the kind of education which seeks equality of opportunity for all with quality of education for all still continues.
"Having been fortunate enough to enjoy a long-standing connection with the University, I am honoured to now have the opportunity to give something back to an institution that has given me so much."
Professor Gajendra Verma
Shanice Blair is studying a Master's in Intercultural Communication and is the recipient of a Gajendra Verma Scholarship. She explains how much of a difference his support has made to her during her time as a student.
"Gajendra has made my life a whole lot easier and taken so much weight off of my shoulders. It was really important to me that I enjoyed my time studying at The University of Manchester (especially as it is only a one year course). I love to learn and really wanted to be fully immersed in my course content. I was therefore worried that I would have to take on a part time job alongside my studies because I find it really challenging to juggle multiple responsibilities."
"Gajendra's generosity has meant that I haven't had to worry about that and I will be forever grateful to him."
Gajendra has also made a significant donation to Manchester Metropolitan University which will fund an annual award for teacher training students from low-income backgrounds.
The gift will be used to set up an award named in memory of his late wife, Dr Kanka Mallick, who was a Senior Lecturer in Educational Psychology at Manchester Metropolitan University. The award will be named the Kanka Mallick Award for Teacher Training.
There was recently a joint celebration held (pictured) to thank Gajendra for both gifts.
Following the success of the Lymphoma group, established thanks to Gajendra's support, his recent gift promises to have an equally significant impact on the University, enabling postgraduate students to realise their true potential.
Everyone at The University of Manchester is so thankful to Gajendra for his far-sighted support and generosity. On behalf of the future generations of students who will benefit from his gift, thank you.