Manchester goes into 2018 buoyed by international recognition as a UNESCO City of Literature – a destination dedicated to pursuing excellence in the written word, sharing stories and engaging citizens in books, both locally and around the globe.
This is why Manchester became a UNESCO City of Literature #UNESCO #CityofLiterature
tweet this
"I grew up in Harpurhey, next to the street where the famous writer Anthony Burgess once lived. Even the deprived areas here have history."#UNESCO #CityofLiterature
tweet this
Who's your favourite Manchester author? #UNESCO #CityofLiterature
Click To Tweet
From the gothic history of its John Rylands Library to the rich seam of best-selling authors and playwrights who have graduated from here, The University of Manchester has an ongoing role in a truly great literary city. We look at our past, present and future, as well as remembering those greats who have studied and taught at the University, helping to secure our place on the global map.
Hallie Fletcher, student
Final-year English Literature student Hallie Fletcher grew up in the east of the city and had her first work published aged 16, despite having fallen pregnant a year earlier. Her early publication gave her the determination to succeed both in her writing and as a single mum and, at 19, she took an access course and received a conditional offer to study at the University's Faculty of Humanities.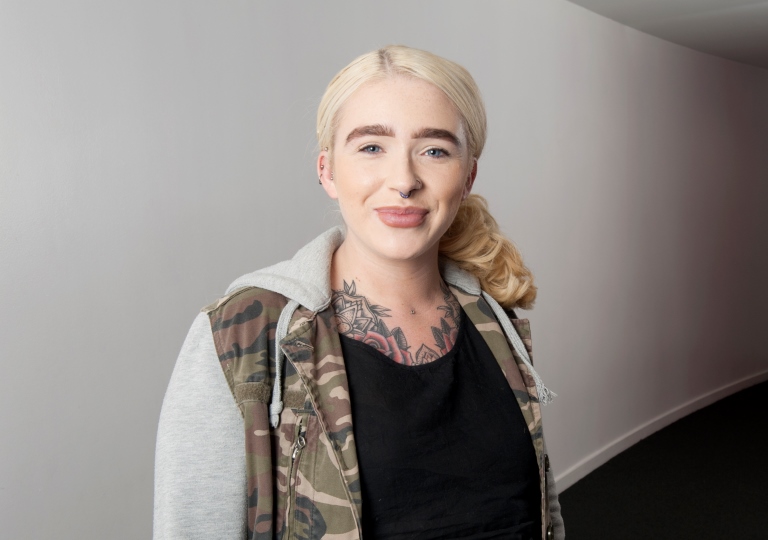 Hallie went on to receive a scholarship for study via the University's donor-funded Manchester Access Programme (MAP) and is due to graduate this summer. "My first published poem, Apple of My Life, inspired by the life and death of World War II codebreaker Alan Turing, was put in the Portico Library Anthology when I was 16 years old," she recounts. "I became interested in Turing when my grandad told me about him after I questioned the name of Alan Turing Way, a road in Manchester near our home.
"I grew up in Harpurhey, next to the street where the famous writer Anthony Burgess once lived. Even the deprived areas here have history."
Hallie adds: "When I think of Manchester and its contribution to literature, the first thing that comes to my mind is the great people I have studied and their roles in Manchester: Friedrich Engels, Elizabeth Gaskell, Karl Marx. The second thing is how amazing the University is to study literature at. I thank the MAP scheme for giving me the opportunity to study here.
"The tutors are incredible and the University is very supportive. I look back at old essays and can't believe how far I've come with my writing. That's thanks to the University and its help. I've been extremely lucky to receive a bursary and a donor-funded scholarship, which have allowed me to self-publish two books, Love, Sex and Death and Moth. Without this support, I wouldn't have had the opportunity to do so."
Read more about Hallie's story.
Alys Conran, alumna
Alys Conran's first novel Pigeon – a tale of childhood friendship torn apart – was published in 2016 and won the Wales Book of the Year 2017. Alys, 37, graduated from the University's Centre for
 New Writing with an MA in Creative Writing in 2012. She now lives in Bethesda, near Bangor, and lectures in Creative Writing at the University of Bangor while working on her second novel.
She says: "The University of Manchester has been the home of so many writers with huge reputations, including Jeanette Winterson, Colm Toibin, Martin Amis, Ian McGuire, MJ Hyland and Geoff Ryman. The role that a department like that can have in a city's literary community, and for a city's potential to stimulate great literary work, can't be overestimated.
"The course gave me a tremendously valuable experience of what it means to have my work be public even before I experienced publication proper. The positive reception that early drafts of Pigeon got from tutors and fellow students was so galvanising. It was especially valuable to see that the book could be loved by readers of different backgrounds and that its cultural backdrop wasn't a barrier but a strength. Without the affirmation from the course at Manchester, I might have given up. Pigeon might never have gone on to be published, to be enjoyed by readers, nor to win awards.
"The city of Manchester is responsible for some vital and original narratives of urban life. Writers like Anthony Burgess or Howard Jacobson are absolute masters of writing urbanity in all its complexity and nuance. I've always felt that Manchester contributes a fresh alternative to London's literary scene. Manchester can somehow absorb and include writing from all over the world, including Scottish, Welsh and Irish writing, in a way that London seems to struggle to. I think it's both an inclusive and a very discerning literary community."
The winning UNESCO bid
Manchester's status as a City of Literature was announced in November 2017. Its successful bid to UNESCO places it alongside Baghdad, Dublin, Barcelona, Prague, Melbourne, and Reykjavik in a global network of Creative Cities renowned for their literary contribution to the world, incorporating fiction and non-fiction, poetry and prose.
The bid was directed by a committee of 15 people, including John McAuliffe, Kaye Mitchell and Jerome de Groot from the University's Centre for New Writing, which this year celebrates its tenth anniversary. It was coordinated by a consortium involving The University of Manchester, Manchester Metropolitan University, Manchester City Council and the Manchester Literature Festival, plus representatives of the city's writers, publishers and literary organisations.
John McAuliffe, Reader in Modern Literature and Co-director of the Centre for New Writing, explains: "It was really important that working writers and academics were involved to make the case for both writers and writer development. The vitality of the literary community depends on writers creating new work; for us that involves getting our students and staff involved in the business of writing.
"We already do so much. We had to prove to UNESCO that there was an unusual, existing amount of activity in this art form and that we have workable plans to develop that in the future. This new status gives us, the Manchester community, fresh momentum to do new things."
Literary greats
Louis de Bernières
Best-known for his wartime tale of love, Captain Corelli's Mandolin, fiction-writer and poet Louis de Bernières graduated in Philosophy from the University and explored several career paths before becoming a published – and later award-winning – author in 1990, with his first novel The War of Don Emmanuel's Nether Parts. He is a regular feature on must-read lists.
Alex Garland
Novelist and screenwriter Alex Garland studied Art History at the University. Inspired by his travels as a backpacker, his first, award-winning novel The Beach was published in 1996 and was translated to the big screen. He has since penned the screenplays for 28 Days Later and Sunshine, both directed by Manchester's Danny Boyle.
WG Sebald
Winfried Georg Maximilian Sebald was born in wartime Germany in 1944. Having studied in Switzerland, he came to Manchester and joined the University as a language assistant in 1966. Sebald's reflections on the Holocaust, combining memoir, travelogue and history, secured his place among the 20th century's great writers.
Robert Bolt
Cheshire-born playwright Robert Bolt graduated from the University before entering the RAF and embarking on a hugely successful writing career. The recipient of two Academy Awards, he is best known for writing the screenplays for Lawrence of Arabia, Dr Zhivago and the silver screen adaptation of his own original play, A Man for All Seasons.
Jeanette Winterson
Born in Manchester, Jeanette Winterson's first book, Oranges Are Not the Only Fruit, was published in 1985, when she was 24. She has since written more than a dozen books, including her memoir Why Be Happy When You Could Be Normal? In 2006, Winterson was awarded an OBE for services to literature. She was appointed Professor of Creative Writing at Manchester in 2012.
Alison Uttley
The creator of charming children's series, Little Grey Rabbit, Little Red Fox and Sam Pig, Alison Uttley, born in 1884, wrote over 100 books in her lifetime, having initially studied Physics on a scholarship. She became the University's second female Honours graduate and was awarded an honorary Doctor of Letters in 1970.
Learn more on the City of Literature and our Centre for New Writing websites.