Ensuring equality of opportunity for all students is a key part of the University's Student Success Strategy. To show how we are working towards this goal, we are pleased to share our newest Access and Student Success Impact Report for 2022.
The report, prepared by our Access and Student Success team, illustrates the range of activity taking place across the University to support students from all backgrounds to access higher education and reach their full potential. Much of this work wouldn't be possible without our generous community of donors.
The report's pages are filled with inspiring stories and statistics that show how our work is making a difference across Greater Manchester and beyond. Raising aspirations amongst students from non-traditional backgrounds and developing diverse pathways into higher education.
Highlights from the report include:
Over 2,000 Access and Student Success activities were delivered last year
55% of young people who took part in this activity live in areas of low progression into higher education
452 year 12 students took part in our flagship Manchester Access Programme in 2021/22
Over 800 schools participated in activity led by the Access and Student Success team
You can read the full report and find more information by clicking here.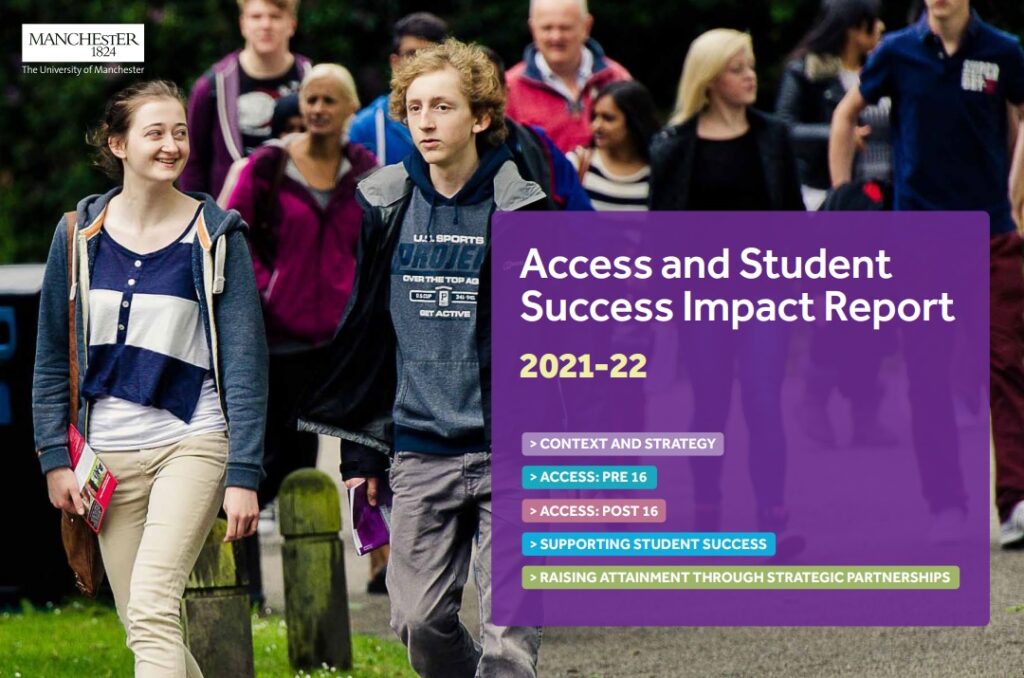 The Access and Student Success Team
The Access and Student Success team here at The University of Manchester are committed to ensuring that all students with the drive and talent to pursue higher education can do so, regardless of their background or financial status.
They work towards a key part of the University's Student Success strategy, which aims to provide equality of opportunity for all students and encourage those already here at Manchester to reach their full potential.
By working with local schools and developing strategic partnerships, the Access and Student Success Team deliver a range of activity for both pre and post 16 students. Helping to raise attainment, increase skills and confidence, and prepare young people for the transition to higher education.
The team also work to develop programmes that encourage and inspire students once they are here with us at Manchester. By providing support through our careers service and creating opportunities for students to gain crucial work experience, our future graduates are set up for success.

Supporting students
Donations from alumni and friends like you play a vital part in this work. Your gifts support students at Manchester through scholarships, hardship funding, and other initiatives that enable bright people from all backgrounds to thrive here. Our community of donors also help to deliver life-changing projects like the Manchester Access Programme, our flagship programme for local students from underrepresented backgrounds.

If you'd like to find out more about making a gift to support students at Manchester, visit: manchester.ac.uk/donate.