Every year students from all over the UK and beyond, come to study at The University of Manchester. For most students, this will be their first real opportunity to explore the city and see what makes it such a fantastic place to live, work and study.
This year over 350 undergraduate students have enrolled at Manchester with a scholarship, thanks to the generosity of our donor community. This vital support removes barriers for students from disadvantaged backgrounds and gives them the freedom to make the most of their time in Manchester and experience student life to the fullest.
We asked two of our first-year students and scholarship recipients, Haris and Ella, to take us on a tour of their favourite places on campus and in the city. Through the photos and stories below you can find out where they love to spend time and why these places mean so much to them.
If you studied at Manchester yourself, you'll no doubt have many memories of your time in the city. And you might have had your own favourite places which helped make your time as a student here so special.
If you recognise these spots or you'd like to share some of your favourite places to spend time in Manchester, please feel free to let us know in the comments.


Haris, BDS Dentistry
Haris is in his first year of study here at Manchester and is also the recipient of an undergraduate scholarship, made possible thanks to the generosity of our donor community. Below Haris has shared his favourite parts of the city, in his own words.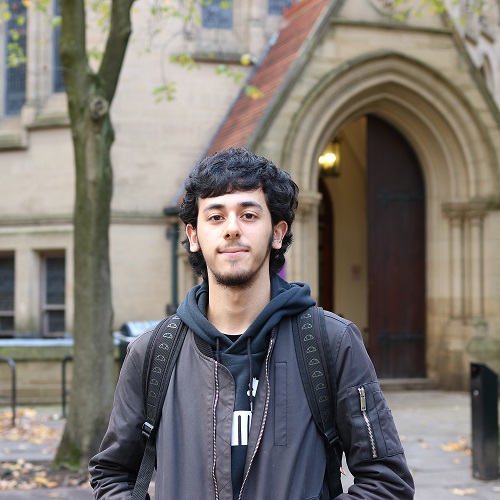 St. Peter's Square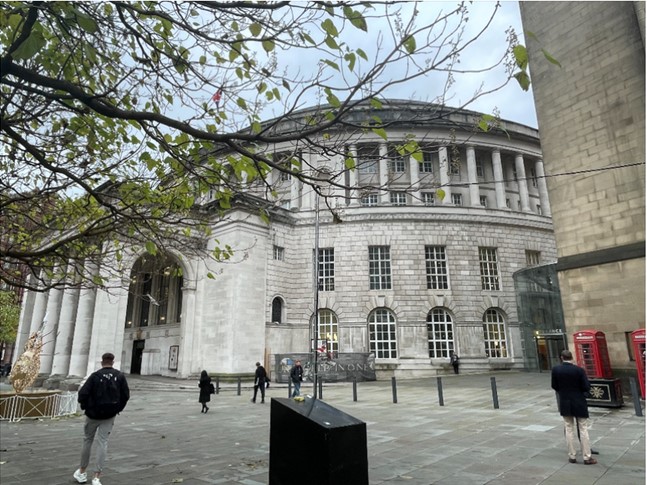 I cycle through St. Peter's Square each time I am commuting, dodging pedestrians left, right and centre whilst simultaneously hoping I don't get flattened by the tram. A marvellous library is at the centre of it all, a great place to spend half a day browsing. As well as the library, there is also the funerary monument erected in honour of British soldiers who fell during World War I. Not to mention the Midland hotel, which I had often looked at and wondered what the huge red building was for.
The mixture of old and new architecture is definitely nice to look at, whether you're casually walking by or rushing for the tram. It's a good place to sit down and soak in the atmosphere and vibe of Manchester. You will always see a stream of university students going to Piccadilly, Market Street or the Arndale centre to do their shopping, so it can get quite busy. However, in the evening hours, it offers a calming seclusion whilst also benefiting from being a very public, open and safe area to relax and unwind.


Heaton Park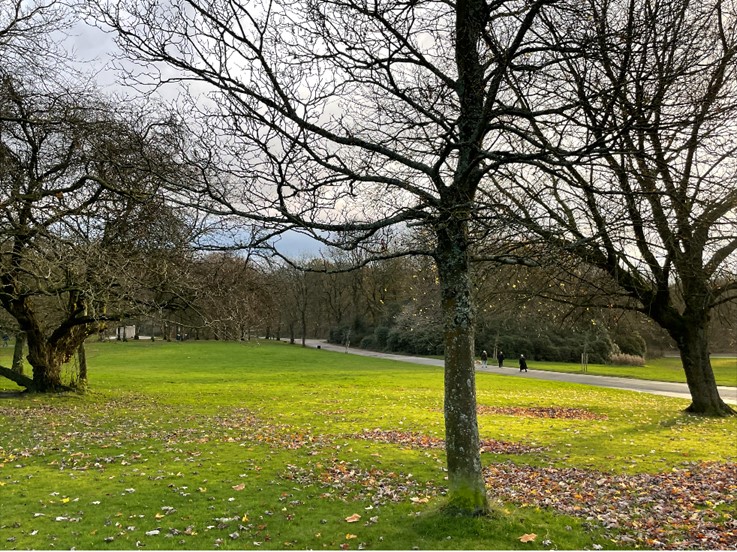 Every Saturday morning at 9am, I come here for the weekly 5km Parkrun whether it's raining, hailing or snowing. This is what I wish I could say if I still had the drive and motivation to continue doing so. Don't get me wrong, I have been a fair few times and have thoroughly enjoyed it every time, however because I cycle to and from the University and work so often, I find I have already had the main benefits of exercise through cycling.
The reservoir in the park and the relentless uphills are just some of my favourite parts. Whether you come here to see the ducks, walk the dog or go for a jog, nothing is better than connecting back with nature. I love the fact that you can get some fresh air despite being so close to the city. It's a good place for everyone; families, couples, friends etc. There are places to get a bite to eat, an animal area, swan boats for hire as well as Heaton Hall to explore. The wildlife, scenery and walking trails makes this a place not to miss.


Mosque McDougall Prayer Hall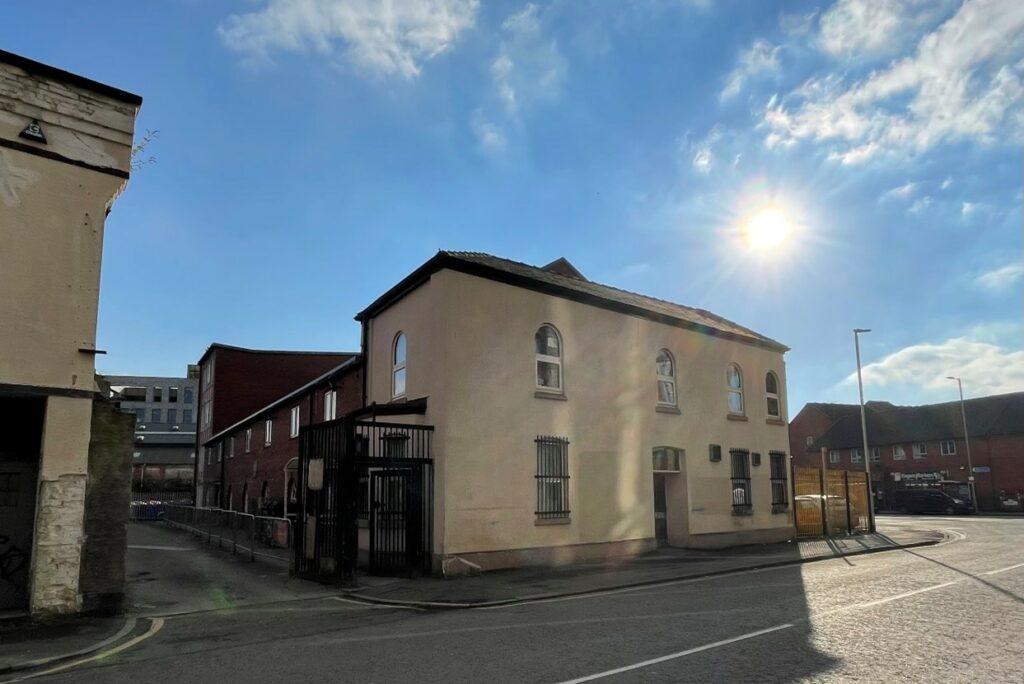 Last but definitely not least is McDougall Mosque. Situated South of the University campus, it is not only a prayer hall but a space to study. It also provides an opportunity to network with other students, from courses you've never even thought of, and is a place to eat the finest local cuisine.

The Islamic Society (ISOC) host their Friday socials here during term time, which are open to anyone. They also hosts weekly Qur'an classes, sports competitions and clinical examination practice for medical students. I recently took part in helping ISOC and Medology deliver interview practice for prospective medical and dental applicants, with all proceeds going to charity to help the floods in Pakistan.

We're very blessed to have a Mosque on campus, which helps bring the community together to arrange all these events. Not only do Muslim students congregate here but people of other religions and beliefs too. Every week you'll either meet someone new or learn something new. And that's why I know this is the best place on campus, because it's a place where you can grow.


Ella, LLB (Hons) Bachelor of Law 
Ella is also in her first year of study here at Manchester and is the recipient of an undergraduate scholarship, funded by our donor community. Below Ella has shared her favourite places around campus, in her own words.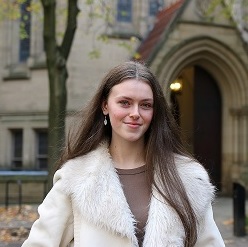 The John Owens Building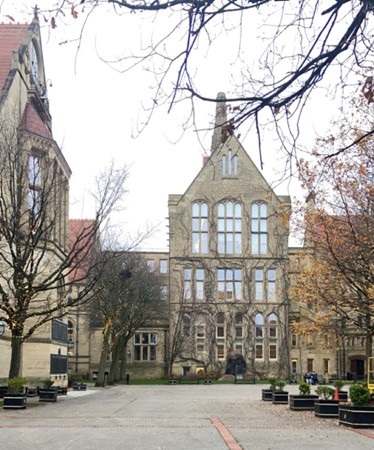 One of my favourite places on the University campus is the John Owens building, the quad and the area surrounding it. It is absolutely gorgeous and I often find myself going there to sit on one of the benches and simply admire the architecture. I also sometimes come to this part of the University in my spare time to read, as in my opinion, it is one of the best places to do this. It's very quiet and calming here so there are not many distractions, and I can read in peace.

The John Owens building maintains its beauty on the inside as well, with stained glass windows decorating the halls. I often go to this building to visit the lovely Donor Relations Team and I am always in awe. This may take the top spot of my favourite place at the University due to its beauty and the happiness I feel when I'm there.
Blackwell's bookshop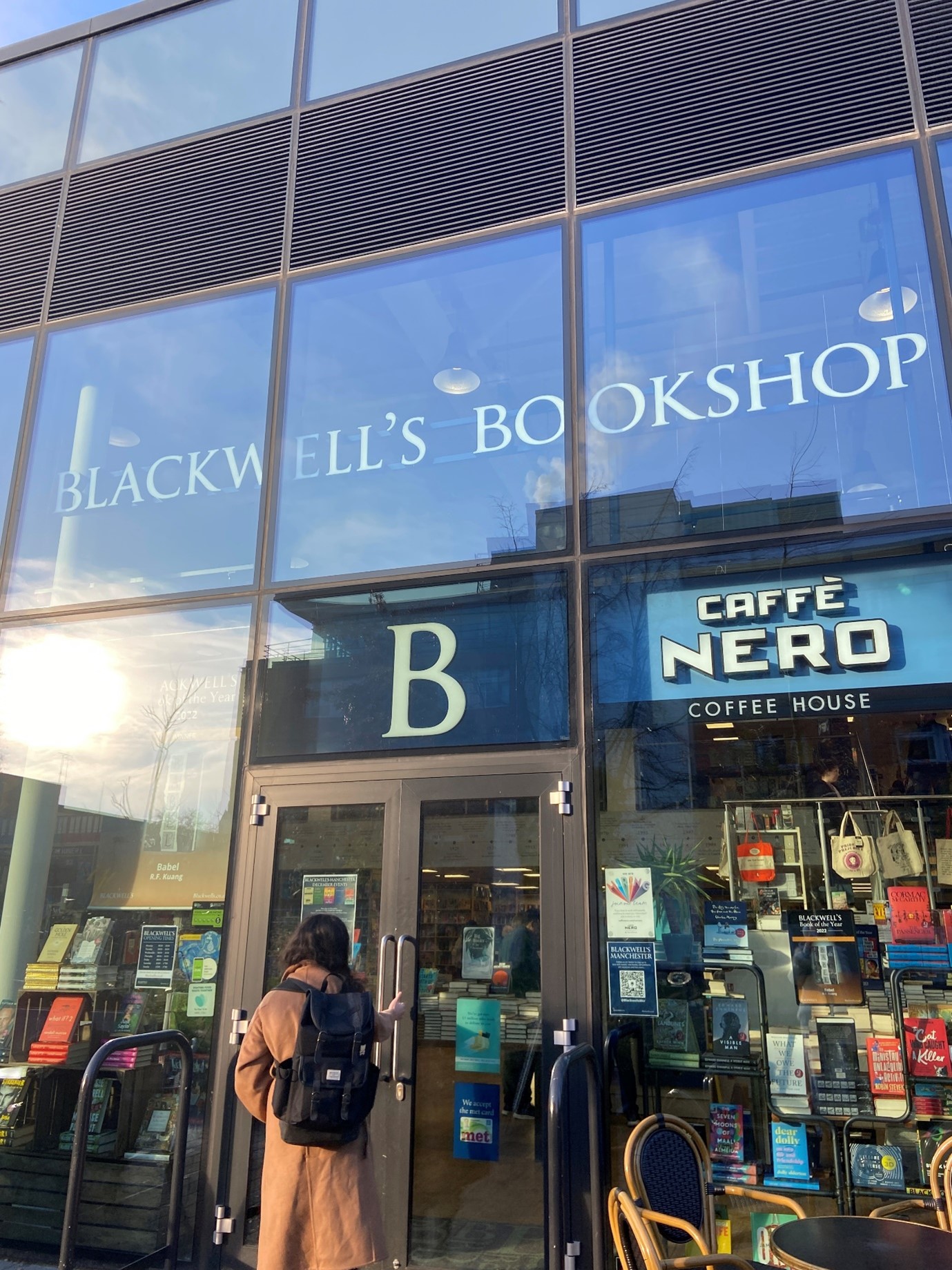 Another of my favourite places on the University campus is Blackwell's bookshop. One of my favourite things to do in my spare time is read, so I'm always on the hunt for a new good book to read (even if I already have a few on my bookshelves that I haven't read yet).
I have always found bookshops a fantastic place for me to clear my mind and forget all of my assessments and deadlines, as I can easily become immersed in the atmosphere. I love how quiet and calming it is there. There is also a little cafe on the second floor, which I haven't visited yet but it looks very quaint. It seems like the perfect place to get some hot chocolate during the wintertime and study or catch up with friends.
Feel free to share your own favourite places in Manchester in the comments below!