Graduation represents the culmination of years of hard work and can be one of the most exciting times during a student's time at university.
65 students graduating this December were supported with donor-funded scholarships during their time at Manchester
Click To Tweet
The majority of our students graduate in the summer, but there are also ceremonies that take place in December, mainly for Nursing students, master's students, and some PhD students.
This December, 65 students are graduating after having received donor-funded scholarships during their time at Manchester.
Donor funded scholarships support students at Manchester at all levels of education. From Undergraduate Access Scholarships, trough master's scholarships and PhD funding, donor support means talented students are able to study and research here regardless of their financial background.
This year, we spoke to some of our graduating scholarship students about how it feels to complete their studies here.
Dr Rebecca Northeast, PhD Neuroscience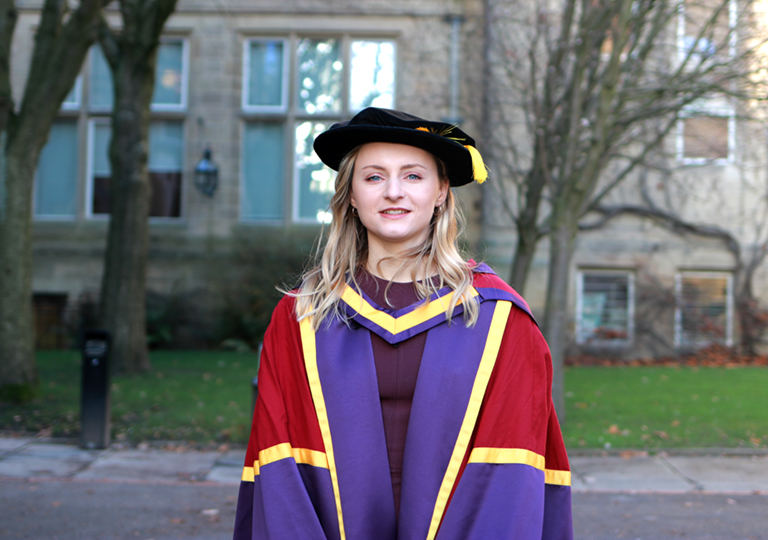 Rebecca spent eight years studying at Manchester and, following her Undergraduate and Master's degrees, has now completed her PhD in circadian neuroscience.
Rebecca received a Research Impact Scholarship during her last four years here because of the potential benefits of her project and the more information it will give fellow researchers, and the public, on what affects the quality of our sleep and how we can achieve better sleep.
These scholarships are funded entirely by donors who wish to fund exciting research that has a real impact on some of society's biggest issues.
"These last four years have been challenging, but fun and exciting as well. The scholarship part-funded my PhD and it really helped to make what are challenging years as a PhD student fun and exciting as well!
"I'm really grateful to be graduating here today. I'd like to thank all the donors who contributed to my scholarship and I hope there are many more people to come who will be able to carry out exciting research thanks to the help of donors."
Brook Makonnen, MSc Environmental Governance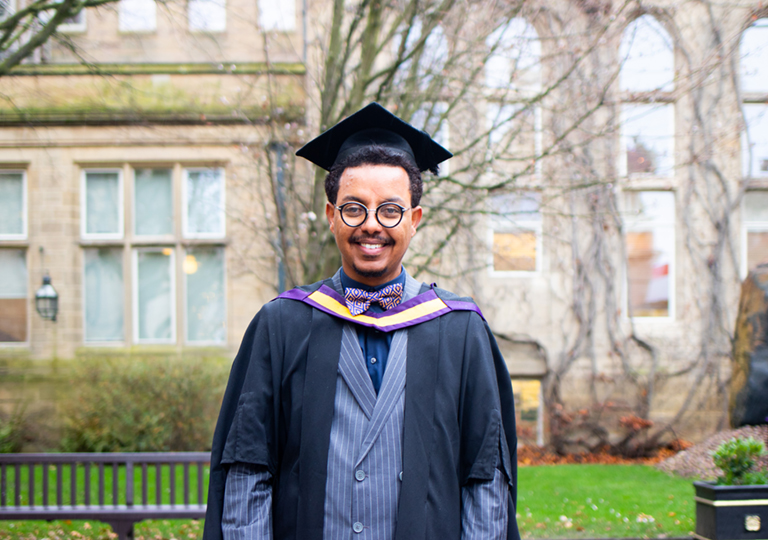 Brook is from Ethiopia and has just graduated with a Master's in Environmental Governance.
He was able to study here thanks to an Equity & Merit Scholarship, funded by generous donors Tim and Judith Sear. Equity and Merit Scholarships are awarded to talented students from parts of the developing world who plan to use their education from Manchester to benefit an area of need back in their home country.
"My scholarship opened new doors and opportunities for me; it's been amazing. It really helped me get the world-class experience and education I needed. I never thought I would study a Master's in the UK.
"The graduation ceremony itself was epic! Very traditional and it also made me quite emotional.
"I now want to go back to Ethiopia or other places in Africa because I want to support the environmental governance framework which still needs to be developed into something important and critical to the people on the continent. That's my mission in life for the near future."
Dr Kurdo Abdulla, PhD Civil Engineering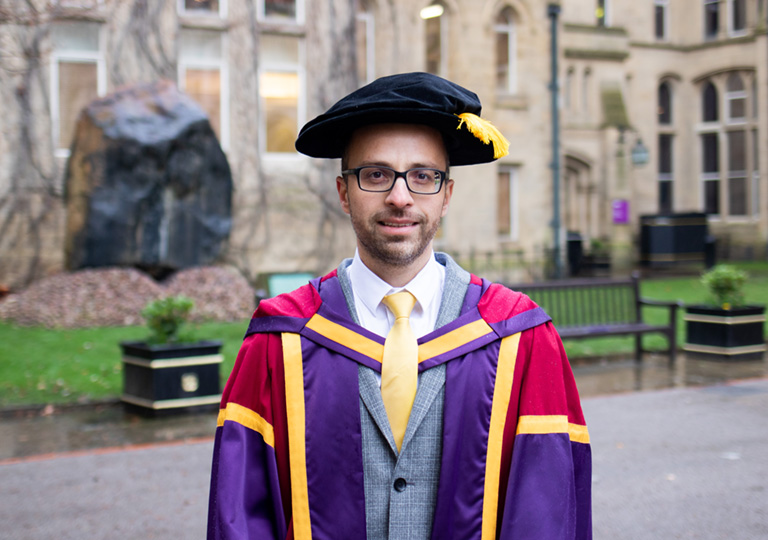 Kurdo completed his PhD in Civil Engineering with the help of a Research Impact Scholarship.
"I'd like to thank the people who donated to my scholarship. Without their generous support I would not be here today."
"Their contributions allowed me to make my dreams come true."
Kurdo is now working as a research associate at The University of Manchester and is looking forward to further advancing research in Civil Engineering.