Each December, hundreds of talented people successfully graduate from The University of Manchester's PhD programmes. For many, this achievement is made possible thanks to the generous donors who support our research through PhD scholarships.
A PhD gives students the opportunity to pursue a subject they are passionate about, whilst also contributing to our world-leading research efforts here at the University. The work undertaken by postgraduate students is essential to help lay the foundations for future discoveries and increase our understanding of the world around us.
For students at the beginning of their career journey, a PhD can also be the gateway to exciting research and professional roles. But increasing costs and scarce research funding means that many of the brightest people would struggle to take this important step without donor support. By giving a diverse range of students the chance to undertake further study, our donors are developing the researchers, thinkers and leaders of the future.
In this series of posts, you can meet three inspiring individuals who recently completed their PhD at Manchester, graduating last December. We hope you'll enjoy reading about their experience as well as their exciting future plans!

Kushupika, PhD Midwifery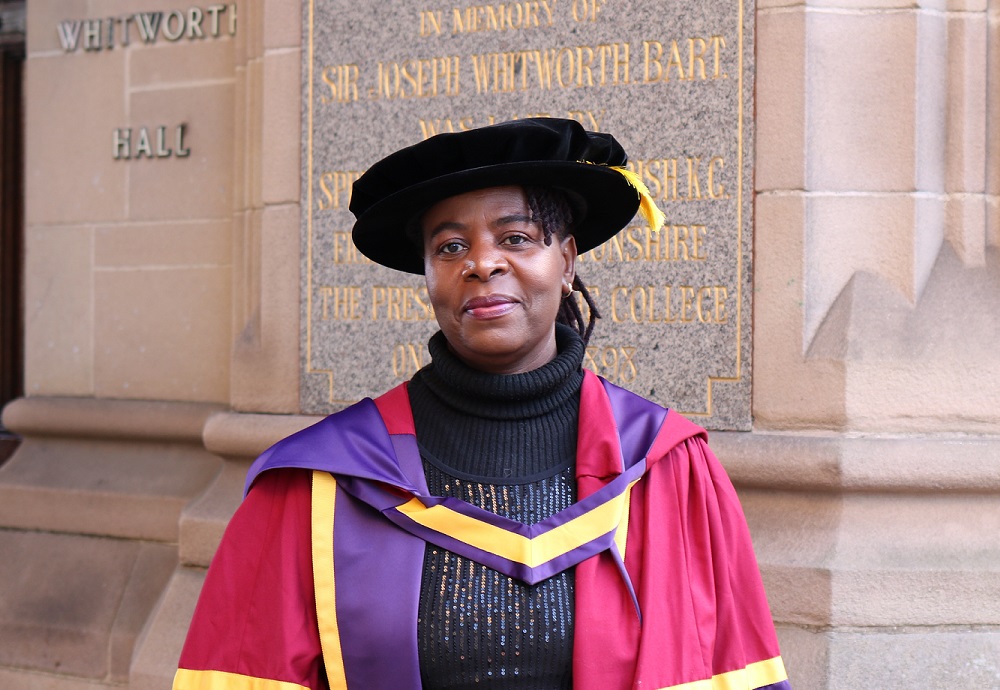 Kushupika graduated in December 2022, having completed a PhD in Midwifery. Kushupika is also the recipient of the Robin and Jan Mills PhD Scholarship, which has been generously supported by Mr Robin and Mrs Jan Mills.

Tell us about your PhD research topic and why you chose to study at Manchester?
My PhD focused on the experiences of pregnant women, their partners, and clinicians of reduced baby movements. This was a grounded theory study that unveiled a theory of pregnant women's perception of reduced baby movements and problems associated with health care-seeking for reduced movements. The findings will influence clinical practice, education, policy, and further research.

Studying at The University of Manchester gave me an opportunity to associate with the best supervisors in research and gain in-depth quality knowledge of maternal and newborn health and the research process.

What will you remember most about your time at Manchester?
What I will remember most are the sleepless nights to accomplish my PhD work. The determined supervisors assisted me to achieve my goals. The friendly, approachable University staff made my course bearable.

How did receiving your scholarship make a difference for you?
Receiving a PhD scholarship made a difference in my professional progression, I have advanced from being a master's prepared midwife to Doctor. Additionally, I garnered mentorship experience from the first world which l could have never had if l had trained in Sub-Saharan Africa.

What are you future plans/career aspirations after graduation?
I aspire to continue practicing as a midwife in a public health institution, imparting knowledge to students on the research process. I will conduct further research aimed at improving the quality of maternal and newborn health care. Reducing maternal mortality, morbidity, and stillbirths. I foresee myself becoming a midwifery consultant in the future.

Do you have any words of thanks for donors who support PhD scholarships, such as yours?
I would like to convey my sincerest gratitude, appreciation, and thanks to Mr Robin and Mrs Jan Mills who made it possible for me to attain this PhD through their financial and moral support. My words are few because it is hard to express how this scholarship has made me self-actualize. I say thank you and God bless you always.

If you'd like to read more, you can meet our other PhD graduates in the posts below: