When her mother was diagnosed with cancer, Holly considered dropping out of university altogether. Thanks to the Living Cost Support Fund, she was able to continue her studies and graduated this summer.
The Living Cost Support Fund allowed Holly to continue studying and graduate this year
Click To Tweet
Holly was able to come through one of the most difficult periods in her life thanks to the Living Cost Support Fund
Click To Tweet
Find out how donor support meant that Holly didn't have to drop out of university
Click To Tweet
At the end of my second year at university, my mum was diagnosed with bowel cancer.
To make things worse, my stepdad was also ill at the time with a heart condition so my main concern was my little brother and making sure that I could care for him. 
I remember my mum driving me home one day after I'd been to visit her and she asked what I was going to write my dissertation on. I looked at her and asked what she meant. She said 'what topic?' and I just burst into tears. The only word in my head was 'cancer'. I didn't know what I was going to do.
Falling on hard times
I decided that I would have to drop out of university.
While she was being treated, I found myself really frustrated with the fact that I couldn't do anything. I'd go home and just be in the way. So I talked to my auntie one day and asked how I could help.
She said the best thing I could do is go to university and do well, because that's what my mum wanted.
When my mum was in hospital, all she'd talk about is my graduation and when I finish university and it just made me realise that I need to stay at university to help her. She'd almost feel guilty in a way if I dropped out.
So I decided to stay, but then I lost my part-time job and was made redundant. I was struggling for money and, as my mum wasn't working, she couldn't really financially support me.
I went to Student Support where I met a great lady called Philippa. I saw her on a regular basis while my mum was sick and she told me I could apply for the Manchester Hardship Fund which can help pay for rent, books and things like that.
Support from the Living Cost Support Fund
I applied and they accepted my application which was a big relief.
The help I received from the Living Cost Support Fund made a massive difference. There was already so much going on at the time and it meant that I did not have additional stress.
It meant that I could be a normal student; being able to be with my friends, live with them and my mum didn't have to worry as well. She had enough on her plate and she didn't need to think about how she was going to support me. It also meant my dad didn't have to go back to work and so he could help care for her. It was a big help.
My mum received the 'all clear' a few months later. I remember she told me in a text message. I was getting ready to go out for a friend's 21st birthday party. I was at the top of the stairs, I read it and I don't think it really registered right away. Then I walked down the stairs and it hit me. I could not stop crying. I was just so happy and relieved. When I got back from the party, I was crying into my cheesy chips! It was great news and she was really pleased. She beat it.
Six months later, I have just graduated in Politics and Criminology.
Graduation Day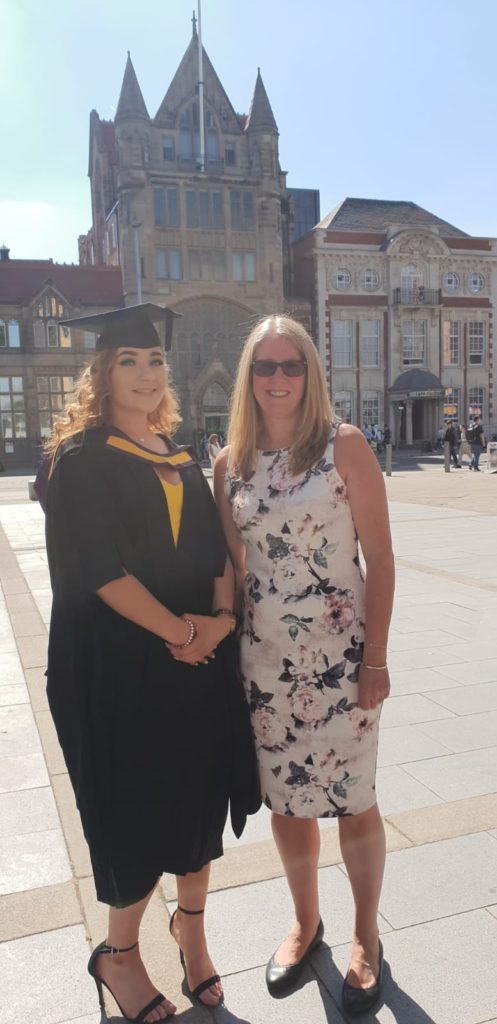 The day of my graduation was amazing; we had so much fun. I was lucky that it was a later ceremony because it took me so long to get ready! My mum was so happy she just would not stop crying. She'd been planning it for months.
I remember when she was in hospital, she was talking about my graduation all the time and I hated it because in my head I just couldn't stop thinking 'what if she's not there? I don't want to go to graduation if she's not going to be there.'
But for her, planning it – she's had her dress now forever –  just kept her going thinking about all the nice things that we had to look forward to. So Graduation Day was just what we needed after such a hard time.
We actually saw Philippa, the lady from Student Support, which was really nice. We then went for dinner. It was so nice to have my family there and just enjoy the day knowing that I had actually graduated, because I didn't think I would.
At the moment, I'm getting some experience working at The Priory with mentally ill children and I love it. I liked jumping straight into the world of work and it's really rewarding.
Eventually, I would like to become a mental health nurse. It's something I never thought I'd want to do but, working with nurses day to day, it's made me realise that it's a really rewarding role, and it is something that I could do. Going into the job that I've got now, there are so many things I thought I wouldn't have been able to cope with, but it just becomes part of your normal routine.
To those who donate to the Living Cost Support Fund, I would just like to say thank you. It had such an impact on me in a really difficult time during my degree. It was the security that I needed. It was one less thing to worry about when there was so much going on and I am truly grateful.
As told to Tom Howorth by Holly Twomey.
Many of our donors choose to give to the University's Living Cost Support Fund. The Fund provides emergency support for students like Holly who come into sudden and unexpected financial trouble.