Samuel's work has already had a significant impact on healthcare in areas of Uganda. Using his Master's degree from The University of Manchester, he aims to bring positive change to the whole country.
Find out how Samuel plans to transform healthcare in Uganda
Click To Tweet
Equity & Merit scholarships help students like Samuel bring positive change to their country #GIVE20
Click To Tweet
Samuel's degree will enable his company to support every single hospital in Uganda
Click To Tweet
Many of us take for granted the high level of care we receive when we go to the GP or the hospital. In some countries, however, the most basic of services are not always readily available. Samuel Mugisha, an Equity & Merit student at The University of Manchester, aims to change that in his home country of Uganda.
Samuel comes from a village called Kabale in the South-West part of Uganda. There, he has witnessed first-hand the detrimental effects that a lack of access to state-of-the-art technology has on the quality of care which patients receive.
Samuel first gained experience working in the health sector when studying for his bachelor's degree in Computer Engineering at Mbarara University, Uganda. He spent some time working as a Research Assistant on a mobile phone application for Marie Stopes Uganda, an NGO that provides women with contraception and safe abortion services.
Launching his company
When the researcher who Samuel assisted was leaving, she asked him and his colleagues what they would like as a thank you gift.
"We said, 'you know what? It would be great if you could help us start a company.' So she gave us a hundred pounds which is enough to register as a company in Uganda and also gave us Marie Stopes as a client to continue the work we were doing."
In their second year of university, Samuel and his colleagues founded 'Streamline' and a year later, hearing of their fine work with Marie Stopes, another NGO called Health Child Uganda also requested their services.
Health Child is a partnership that works to improve health for mothers, babies, and children in Uganda. Samuel's company developed a mobile phone application that Village Health Team members could use to record key information on each new-born baby in the Bushenyi District, Uganda.
"Village team members would visit the young babies every five weeks, recording information about them and then report this to the district health centre. Then the district can quickly see if there are any problems."
Samuel and his colleagues' time spent working with these two organisations gave them the drive to do more for their country.
Witnessing the challenges
"We had seen first-hand the challenges of the healthcare system in Uganda and we could see that there was a need for help."
As the company was still in its infancy, Samuel and his colleagues branched out with the services they provided and started selling software packages to hospitals.
"The hospitals were capturing financial information but the records were very messy."
With this in mind, in 2014 the company set out building software for hospitals to use in order to manage all electronic records. In the following two years, when his company's software was introduced at one of the main hospitals in Uganda, Samuel saw how much of a positive change his company could have.
"We did an analysis of the software after it was used and we realised there were some key benefits in cost savings because it allowed hospitals to monitor their pharmacy stock much better. We also saw that their revenues collected and expenditures had really improved."
Most importantly, the hospital's efficiency and overall quality of care also improved. Before the introduction of the software, doctors at the hospital had to go through disorganised paper records to view a patient's medical history and there was not an effective way of triaging patients. Samuel's company addressed those problems head-on.
Bringing positive change
"Now, one hundred per cent of the children in that hospital are being triaged. There are many cases we have which show that babies would have died in the queue if they hadn't been identified early but, because the software allows for effective triage, their lives can now be saved."
Four years later, there are two other hospitals in Uganda using the software. This is remarkable progress, but Samuel's aspirations go beyond this.
"I want an electronic health record for every patient in Uganda. We want to have this software used in every hospital. It's a lot of data and a very big challenge but it's what we hope to do."
To achieve this vision, Samuel saw that he needed to gain more knowledge and skills in computer science.
"I needed to gain knowledge in handling a lot of data and scaling systems. I decided I needed an advanced degree in an area like computer science to be able to meet the challenge."
Equity & Merit Programme
It was at this point that he first heard of the Equity & Merit programme at The University of Manchester.
The Equity and Merit programme supports exceptional students from some of the world's poorest countries to gain master's degrees in subjects not available in their home country. The aim is that they will then take the knowledge gained from their degrees back home and use it to benefit their communities.
Recognising his talent, drive and potential, the University awarded Samuel a Sear Equity and Merit Scholarship, which is generously funded by US-based alumni Tim and Judith Sear. The scholarship covers his, flights, visas and living expenses, while the University waives his tuition fees.
"It's a very big opportunity for me. When I told my father that I had been accepted onto the programme, he couldn't believe it. He really values education but he never knew that I would one day be at one of the best universities in the world. So he was really, really excited and very happy!"
A world-class education
Now that Samuel is studying here, he is already seeing how the course will benefit him and his company moving forward. He will take the knowledge and skills he has gained in areas such as software engineering and cloud computing and use these when he returns to Uganda later this year.
This, along with the soft skills he has developed and the contacts he has made, he feels ready to take his company's work and impact to the next level.
"I'd say I've achieved my first goal, which was to gain the relevant skills. I've now also made some friends from all over the world. Now, I feel like I can approach anyone, talk to them and pitch my ideas, and I feel like I really understand my field a lot better."
Support from our donors contribute to scholarships like these and Samuel's story shows the impact that a world-class education at The University of Manchester can have, both on the student and their home country.
"I'm really very grateful. It means so much to me. There is a common saying in our language: when someone gives you a gift, what you do with the gift is actually the gift you give back to them. So when donors give towards scholarships like mine, actually the gift they receive is the work that we do after that. The impact that they create through us is huge."
GIVE20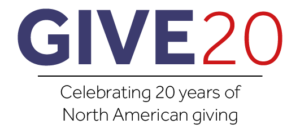 Over the past 20 years, alumni based in North America like Tim and Judith Sear have joined our other alumni to generously fund countless scholarships like Samuel's. This year, we're celebrating these 20 years of giving by showcasing the impact of this giving, thanking those who have given, and encouraging more alumni to join this tradition of giving.
If you're an alum based in North America, find out how to get involved, or donate today from the US or Canada.